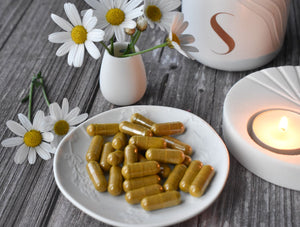 Formulated by women, for women
Selaura is the creation of two women, when aged 44 and 53, suddenly found themselves at various stages of the menopause without any more constructive solutions available on the market other than vitamins, non-clinically proven supplements and advice to simply 'wait it out'.
Being women who are used to taking charge of their lives - and living them to the full - the more they learnt about the effects of menopause, the less they were inclined to simply accept that life from now on would come with compromise.
After months of careful research and development - working with scientists, nutritionists and talking with women of similar ages - they developed the proprietary Selaura formula, which is specifically designed for women aged 40+.
our mission
It's really pretty simple. Our mission is to help women to continue to live - and love - their lives - without compromise - by redressing the symptoms of perimenopause and menopause.
Mid-life
The word 'menopause' is typically something that's associated with getting 'old'. But did you know that perimenopause generally starts around the age of 40, often as much as 10 years before your periods even start to become irregular and that there are more than 48 recognised symptoms of perimenopause? And worse still, the majority of women suffer in silence, putting their perimenopause symptoms down to the stress and strains of everyday life.
It's no wonder as the early signs typically include:
- low energy and stamina
- lack of concentration and "brain fog"
- restless nights
- hair, skin and nails that just don't 'glow' anymore
- irritability
- mood swings
- loss of libido
- joint pain
- anxiety and stress
- weight gain (particularly around the abdomen)
And can even continue post-menopause.
Ageing without compromise
But at Selaura we firmly believe that there's no need to compromise. Given that it is now expected for women to live 40-50% of their lives post-menopausal, with the right supplement which works with your body to counteract changing hormone levels, you can alleviate these symptoms and focus on living life to the full.
Selaura contains the highest quality ingredients available, each of which are included at optimum dosage levels and have been the subject of rigorous research and clinical testing.
We use 12 active ingredients in total. Seven of these are patented and include delivery systems which optimise their bio-availability (absorption) and performance. The remaining five ingredients have been the subject of extensive research.

For more information on the clinical research of each individual ingredient, have a look at our Science page.
Our formula is free from
Wheat, dairy, soy, fish, sugar, artificial sweeteners, preservatives and any excipients, fillers or bulking agents. No gluten containing ingredients. Suitable for vegans. No known contra-indications to HRT.