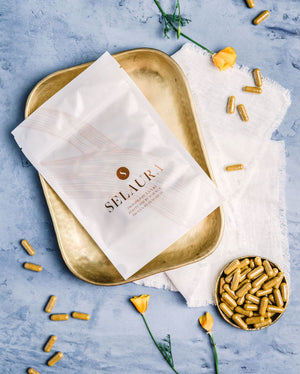 The Science Behind The Supplement
Selaura is the result of over 12 months of dedicated research to combine the most clinically tested and peer-reviewed ingredients - to make you feel like you again.
Please click on the titles below to find out more about our individual ingredients and some of the clinical research that has been carried out on them.
PROVIDED BY NATURE
Turmeric, containing Curcumin, is a powerful antioxidant and anti-inflammatory. It's effective against cellular aging, giving skin a healthy glow. It also contributes to cognitive, heart and joint health as well as boosting immunity.
PERFECTED BY SCIENCE
HydroCurc®, an award winning cold water dispersible Curcumin, delivered using the patented LipiSperse® system is clinically proven to deliver the highest possible dose of Curcumin, allowing increased absorption and higher efficacy.
PROVEN BY RESEARCH
The world's most bioavailable Curcumin in a single dose. A parallel, double-blind, bioavailability study measured uptake of HydroCurc® to determine whether LipiSperse® can be successfully used to improve the absorption of Curcuma longa extract (95% curcuminoids).
Results: Significant increase in absorption compared to standard curcumin (807 ng/mL vs 318 ng/mL in cross-over trial). These results indicate HydroCurc® to be the most absorbable Curcumin seen in industry to date with the lowest dose.
Briskey, D., et al. "Increased bioavailability of curcumin using a novel dispersion technology system (LipiSperse®)." European journal of nutrition (2018): 1-11.
PROVIDED BY NATURE
Used for centuries in Ayurvedic medicine to promote balance within the body, Ashwagandha is an adaptogenic, known traditionally as a plant that promotes longevity, vitality and happiness. It is now recognised for its ability to reduce stress by promoting healthy cortisol levels and for its calming and grounding effects enabling a deep and relaxing sleep and helping to enhance memory and cognitive function. A potent anti-inflammatory, boosting immune health and helping to regulate hormonal balance, can contribute to increased energy and stamina, and helps support healthy weight management.
PERFECTED BY SCIENCE
For a herb to operate at a systemic level, it needs a complex blend of phytochemicals with a wide range of actions on the human body. Ashwagandha is one of the very few herbs in the world with a complex blend of this type.
KSM-66® is the highest concentration, full-spectrum Ashwagandha root extract on the market today. Refined over 14 years of research and development, KSM-66® has been evaluated in 22 "gold standard" clinical trials.
PROVEN BY RESEARCH
Ixoreal is the industry leader in clinical trials and research investigating the effectiveness of ashwagandha.
KSM-66® Ashwagandha for Quality Sleep
Clinical evaluation of the pharmacological impact of Ashwagandha root extract on sleep in healthy volunteers and insomnia patients: A double-blind, randomized, parallel group, placebo-controlled study.
Results: The 8-week study of Ashwagandha root extract supplemented groups demonstrated a significant improvement in the sleep parameters in both healthy and insomnia subjects. The improvement was found more significant in insomnia subjects compared to healthy subjects. Langade, D., Thakare, V., Kanchi, S., & Kelgane, S. (2020). Journal of Ethnopharmacology: 264:113276.
KSM-66® Ashwagandha For Stress And Anxiety
A prospective, randomized double-blind, placebo-controlled study of safety and efficacy of a high-concentration full-spectrum extract of Ashwagandha root in reducing stress and anxiety in adults.
Results: The study suggests that a high-concentration full-spectrum Ashwagandha root extract safely and effectively improves an individual's resistance towards stress and thereby improves self-assessed quality of life.
Chandrasekhar, K., Kapoor, J., & Anishetty, S. (2012). Indian journal of psychological medicine, 34(3), 255.
KSM-66®Ashwagandha For Stress And Weight Management
Body Weight Management in Adults Under Chronic Stress Through Treatment With Ashwagandha Root Extract: A Double-Blind, Randomized, Placebo-Controlled Trial.
Results: This study suggests that Ashwagandha root extract can be used for body weight management in adults under chronic stress.
Choudhary, D., Bhattacharyya, S., & Joshi, K. (2017). Journal of evidence-based complementary & alternative medicine, 22(1), 96-106.
KSM-66® Ashwagandha For Memory And Cognition
Efficacy and Safety of Ashwagandha (Withania somnifera (L.) Dunal) Root Extract in Improving Memory and Cognitive Functions.
Results: Ashwagandha may be effective in enhancing both immediate and general memory in people with MCI as well as improving executive function, attention, and information processing speed.
Choudhary, D., Bhattacharyya, S., & Bose, S. (2017). Journal of Dietary Supplements, 1-14. Chicago.
PROVIDED BY NATURE
Fenugreek extract supports healthy levels of the hormone Estradiol in women. Estradiol levels naturally reduce as women age, particularly when nearing and in menopause. Maintaining healthy Estradiol levels is important in combatting many menopausal symptoms such as hot flashes, night sweats, mood swings and a reduction in sexual desire.
PERFECTED BY SCIENCE
Libifem® is a clinically proven fenugreek extract which contains over 100 naturally occurring phytochemical constitutes including Furostanol Saponins and Steroidal Saponins both of which are key to supporting healthy levels of Estradiol in women. Libifem® has been clinically shown to help reduce hot flashes and night sweats and to promote healthy sexual vitality, arousal and desire.
Reduces many of the typical menopause symptoms while increasing sexual desire.
PROVEN BY RESEARCH
Libifem® Menopause Study
A 12-week double-blind, randomised, placebo-controlled study to assess the effect of Libifem® in reducing menopausal symptoms in 115 women (aged 40-65).
Primary outcome measure: Reduction in menopausal symptoms (MENQOL).
Secondary outcome measures: Serum sex hormone levels and other quality of life questionnaires – DISF and FSFI (sexual function), PSI (sleep function), and IPAC (physical exercise).
Results: Significantly reduced menopausal symptoms (hot flashes and night sweats). Improved vasomotor, psychosocial, physical and sexual symptoms.

Libifem® Sexual Health Study
An 8-week double-blind, randomised, placebo-controlled study to evaluate the effect of Libifem® on sex hormones and sexual function in 80 healthy menstruating women (aged 20-49) who reported low sexual drive.
Sexual function was measured using the DISF-SR standard, which tests five domains of sexual function.
Results: Increased estradiol, increased sexual desire and arousal.
Rao, Amanda, et al. "Influence of a specialized Trigonella foenum‐graecum seed extract (libifem), on testosterone, estradiol and sexual function in healthy menstruating women, a randomised placebo controlled. study." Phytotherapy Research 29.8 (2015): 1123-1130.
PROVIDED BY NATURE
Bacopa Monnieri is a plant extract that has been used in Ayurvedic medicine for centuries to alleviate stress and anxiety and to boost brain function and memory. Regarded as an important nootropic and adaptogen, the powerful bacosides compounds have been shown to have a strong antioxidant effect.
PERFECTED BY SCIENCE
Synapsa® is a unique extract of Bacopa Monneiri containing a wealth of powerful compounds. Synapsa® uses a patented extraction process to ensure a standardised level of quality in phytochemical elements and therapeutic action. Over 35 years of scientific study and clinical trials has shown Synapsa® to be effective in improving cognitive health. Studies focussed on peak cognitive performance and showed significant improvement in learning rate, visual processing, working memory, information retention and mental performance. In addition, studies have shown Synapsa® to have a calming effect and to promote better quality sleep.
PROVEN BY RESEARCH
Clinical trials and randomized, double-blind, placebo trials show effectiveness of Synapsa® for faster learning, enhanced memory & improved mental performance. In addition, Synapsa® was shown to support sleep and have a calming effect.
The patented, standardized Synapsa® extract has been the focus of seven 'foundational' clinical trials and six 'targeted' clinical trials over the last thirty-five years.
The most intriguing studies include:
Stough, 2001 showed a statistically significant improvement in speed of visual information processing, learning rate and memory consolidation in subjects 18-60 years of age consuming 300 mg/day Synapsa®. A statistically significant reduction in the rate of forgetting was also observed.
Roodenrys, 2002 conducted a randomized, double-blind, placebo-controlled 12-week trial that demonstrated a significant effect of Synapsa® (300mg/d) on the retention of new information by participants 40-65 years of age.
Stough, 2008 conducted a randomized double-blind, placebo-controlled 90-day study with 62 participants, ages 18-60, consuming 300 mg/day. Synapsa® showed a statistically significant improvement in working memory, visual information processing (sustained attention) and accuracy in complex cognitive tasks.
Downey, 2012 studied two different doses (320 mg/640 mg) in a study on sustained cognitive performance, examining the acute (short term) effect of Synapsa® in healthy adult subjects. Significantly improved performance was seen in faster information processing and improved decision-making time in a multitasking environment.
PROVIDED BY NATURE
Shatavari is one of the most powerful rejuvenating herbs in Ayurvedic medicine. Known in Ayurveda as "she who possesses a hundred husbands," Shatavari has a range of health benefits for the female reproductive system including reducing the symptoms of PMT and mood swings and reducing hormonal imbalance. Shatavari is an adaptogenic herb containing antioxidant and anti-inflammatory properties.
PERFECTED BY SCIENCE
Shatavari, also known as asparagus racemosus, is a member of the asparagus family found in India. Saponins in the Shatavari root aid with anti-ageing by helping to reduce free radical skin damage. Recent studies suggest that Shatavari can reduce PMT and menopausal symptoms and boost the immune system. Studies also suggest that Shatavari helps prevent collagen breakdown.
PROVEN BY RESEARCH
Impact of stress on female reproductive health disorders: Possible beneficial effects of Shatavari (Asparagus racemosus).

"Based on the existing studies, we propose that Shatavari may improve female reproductive health complications including hormonal imbalance, polycystic ovarian syndrome (PCOS), follicular growth and development, oocyte quality and infertility possibly by reducing OS level and increasing antioxidants level in the body."
Pandey AK, Gupta A, Tiwari M, Prasad S, Pandey AN, Yadav PK, Sharma A, Sahu K, Asrafuzzaman S, Vengayil DT, Shrivastav TG, Chaube SK. Impact of stress on female reproductive health disorders: Possible beneficial effects of Shatavari (Asparagus racemosus). Biomed Pharmacother. 2018 Jul;103:46-49. doi: 10.1016/j.biopha.2018.04.003. Epub 2018 Apr 7. PMID: 29635127.
PROVIDED BY NATURE
Wellmune® is a highly purified, yeast derived, natural beta 1,3/1,6 glucan which supports the immune system. Beta glucan primes the body's innate immune cells, the body's first line of defence against infection, making them act more efficiently. Beta glucan has been shown to support healthy energy levels (without overstimulating), promote mental clarity and protect against the harmful effects of stress, but not all beta glucans are the same.
PERFECTED BY SCIENCE
Using a proprietary process, Wellmune® is extracted from the cell wall of a proprietary strain of baker's yeast. Wellmune® is taken up in the body by the Peyer's Patches in the intestines. Macrophages within the Peyer's Patches, ingest and transport it to the immune organs throughout the body. The macrophages break down Wellmune® to even smaller particles which then bind to neutrophils, the most abundant immune cells, which quickly recognise foreign bodies and remove them.
PROVEN BY RESEARCH
Wellmune® is clinically proven, by over a dozen published, peer-reviewed clinical research studies to demonstrate its ability to provide immune support, improve overall physical health, maintain healthy energy levels and promote mental clarity.
"Wellmune® is the 'hero ingredient', given its deep portfolio of peer-reviewed, published human clinical research demonstrating efficacy for everyday immune support and upper respiratory health." - Gene Bruno, MS, MHS, Director of Category Management Twinlab Corp.
Mah E, Kaden VN, Kelley KM, Liska DJ. (2019) Soluble and Insoluble Yeast B-Glucan Differentially Affect Upper Respiratory Tract Infection in Marathon Runners: A Double-Blind, Randomized Placebo-Controlled Trial. [published online ahead of print 2019 Oct1] Journal of Medicinal Food. 2019;10.1089/jmf.2019.0076.
Fuller R, Moore MV, Lewith G, Stuart BL, Ormiston RV, Fisk HL, Noakes PS, Calder PC. (2017) Yeast-Derived Beta 1,3/1,6 Glucan, Upper Respiratory Tract Infection and Innate Immunity in Older Adults. Nutrition 39-40:30-35.
Talbott SM, Talbott JA. (2012) Baker's Yeast Beta-Glucan Supplement Reduces Upper Respiratory Symptoms and Improves Mood State in Stressed Women. Journal of the American College of Nutrition 31:295-300.
Talbott S, Talbott J. (2010) Beta 1,3/1,6 Glucan Decreases Upper Respiratory Tract Infection Symptoms and Improves Psychological Well-Being in Moderate to Highly-Stressed Subjects. Agro FOOD Industry Hi-Tech 21:21-24.
Feldman S, Schwartz HI, Kalman DS, Mayers A, Kohrman HM, Clemens R, Krieger DR. (2009) Randomized Phase II Clinical Trials of Wellmune® for Immune Support During Cold and Flu Season. Journal of Applied Research 9:30-42.
PROVIDED BY NATURE
Lactobacillus Acidophilus is a probiotic bacteria which occurs naturally in the gastrointestinal tract. Taking a lactobacillus acidophilus supplement improves the balance between the beneficial bacteria and harmful bacteria in the gastrointestinal tract. This is important as an imbalance can lead to dysbiosis which can not only cause side effects like cramps and bloating, but can also cause inflammation and even affect your mood.
PERFECTED BY SCIENCE
For years, studies have shown that consuming probiotics which can help support the digestive system offers a range of health benefits. Emerging studies suggest that the health of the gut may also impact brain health including lowering the risk of - and alleviating the symptoms of - depression. Studies further suggest that they may improve sleep problems, reduce muscle and joint pain and aid concentration as well as improving symptoms of IBS and reducing bloating. Most recently, lactobacillus acidophilus has been suggested to have skin rejuvenating properties.
PROVEN BY RESEARCH
Emerging research suggests probiotics including lactobacillus acidophilus may help prevent and treat depression. Scientists have found a link between gut health and emotional health, and taking probiotics may also improve intestinal health.
19 Huang R, Wang K, Hu J. Effect of Probiotics on Depression: A Systematic Review and Meta-Analysis of Randomized Controlled Trials. Nutrients. 2016;8(8). doi:10.3390/nu8080483.
Immune Health Acidophilus has antimicrobial and antiviral properties and may help to prevent colds, viruses, and even allergies.
Lactobacillus acidophilus CRL 1014 improved "gut health" in the SHIME reactor Katia Sivieri, Martha L Villarreal Morales, Maria A Tallarico Adorno, Isabel Kimiko Sakamoto, Susana M Isay Saad, Elizeu A Rossi.
Results: This study showed the beneficial influence of lactobacillus acidophilus CRL 1014 on microbial metabolism and lactobacilli community composition for improving human health.
PROVIDED BY NATURE
Vitamin D contributes to the normal functioning of the immune system and is needed to maintain healthy bones, teeth and muscles by aiding the absorption of calcium and phosphate. This is particularly important for women, whose bone density can rapidly decline with age.
PERFECTED BY SCIENCE
Earthlight® is the only plant based, vegan whole food source of vitamin D. A patented production process allows Earthlight® to deliver 40,000 IUs of vitamin D in a single gram. Vitamin D2 is considered the equivalent of Vitamin D3.
PROVEN BY RESEARCH
Vitamin D is designated as a 'shortfall' nutrient and current NICE guidelines recommend all adults living in the UK should be advised to take a daily supplement containing 400 international units (10 micrograms) of vitamin D throughout the year, including in the winter.
'Comparing D2 and Ds Isoforms - Jeremy Appleton, ND for PLT Health Solutions'
"Both D2 and D3 are derived from natural sources. Functionality of the two isoforms is comparable when taken at nutritional and physiologic doses, vs pharmacologic doses."
'Newer study data indicates daily vitamin D2 as effective as D3.'
Keegan R-J H, et al. Dermato-Endocrinology. 2013;5:1:165-76.
2000 IU/d of D2 from mushrooms was as effective as 2000 IU/d of D2 or D3 from supplements in raising and maintaining serum 25(OH)D concentrations.
PROVIDED BY NATURE
Vitamin K2 is a fat soluble compound which has hemostatic, anti-osteoporotic and antioxidant activities.
Vitamin K2 has been proven to aid calcium metabolism within the body and ensures that the calcium is directed to the bones where it is needed rather than to the arteries. It is very effective at protecting bone health and cardiovascular health. Both equally important during perimenopause, menopause and as we age.
Combined with Vitamin D2, which helps with calcium absorption, vitamin K2 activates the protein osteocalcin, which binds calcium into bones.
It can lower the risk of cardiovascular damage and contribute to overall heart health.
PERFECTED BY SCIENCE
The need for vitamin K2 supplementation is highlighted by the fact we cannot store vitamin K2 in the body, unlike other fat soluble vitamins. MK-7 is the only active form of Vitamin K2 and the amount needed for activating osteocalcin is significantly higher than what is available in our body.
vitaMK7® is naturally produced using a patented fermentation process which enables optimum natural potency giving MK-7 a purity of all trans isomer higher than 99% and preservation of the original biological structure of the active molecule.
PROVEN BY RESEARCH
Overwhelming research has shown that vitamin K2, and in particular MK-7 to be incredibly effective in bone health and heart disease prevention. MK-7 plasmatic levels raised significantly following the administration of vitaMK7®. The long half-life of MK-7 contained in vitaMK7® in blood is confirmed by the plasmatic levels measured at 24 h. These values are comparable with those reported in literature (Schurgers et al., Blood 2007) for a menaquinone-7 single oral administration.
Several studies indicate that vitamin K2 as MK-7 may have a main role in bone tissue homoeostasis at already 45 µg/daily improving bone mineral density and playing a critical role in the activation of bone formation by osteoblasts cells, and in the suppression of bone resorption. Other studies have shown that vitamin K2 inhibits the synthesis of prostaglandin E2 (PGE-2) which acts as a potent stimulator of bone resorption involved in the regulation and turnover of bone.
Vitamin K2 for Heart Health
Several studies highlight the need for good levels of vitamin K2 as MK-7 in supporting cardiovascular health and in preventing the development of Cardio Vascular Disease. Inverse relationship was demonstrated between dietary intake of Menaquinone and aortic calcification myocardial infarction and sudden cardiovascular death.
In a cross-sectional study among 564 healthy Dutch postmenopausal women participating in the Predictors of Response to Cardiac Resynchronization Therapy Study (PROSPECT) study, of which 62% with calcification, higher dietary intake of vitamin K2 (but not vitamin K1) was associated with a reduced risk of coronary calcification.
Beulens JW, Bots ML, Atsma F, Bartelink ML, Prokop M, Geleijnse JM, Witteman JC, Grobbee DE, van der Schouw YT. High dietary menaquinone intake is associated with reduced coronary calcification. Atherosclerosis 2009.
PROVIDED BY NATURE
Vitamin B6 is essential for metabolism, a healthy immune and nervous system and regulation of hormonal activity. It is involved in the process of creating neurotransmitters, including dopamine and serotonin which help to regulate many body functions including mood and emotions. It can contribute to the stabilising of blood glucose levels, which is important for keeping our brain healthy, energy levels stable and our mood balanced.
Vitamin B6 is required for the complex biochemical process the body uses in order to turn food into energy. Maintaining the correct level of vitamin B6 can reduce tiredness and fatigue while also promoting better sleep.
As vitamin B6 is water (not fat) soluble, it is regularly flushed out of the body and so needs to be topped-up daily. Vitamin B6 (with Vitamin B12) reduces levels of homocysteine, which, in turn, reduces the risk of cardiovascular disease and cognitive decline.
PERFECTED BY SCIENCE
Vitamin B6 is an intriguing molecule that's involved in a wide range of metabolic, physiological and developmental processes. Based on its water solubility and high reactivity when phosphorylated, it is a suitable co-factor for many biochemical processes. Furthermore the vitamin is a potent antioxidant, rivaling carotenoids or tocopherols in its ability to quench reactive oxygen species. It is therefore not surprising that the vitamin is essential and unquestionably important for the cellular metabolism and well-being of all living organisms.
PROVEN BY RESEARCH
Vitamin B6 is required for the biosynthesis of several neurotransmitters like serotonin, dopamine and γ-aminobutyric acid. Serotonin acts on the central nervous system where it affects a diverse range of conditions including appetite, sleep, or cognitive functions, and it is also well known for its ability to improve overall mood.
Berger M., Gray J.A., Roth B.L. The expanded biology of serotonin. Annu. Rev. Med. 2009;60:355–66. doi: 10.1146/annurev.med.60.042307.110802.
PROVIDED BY NATURE
Vitamin B12 is required for the development and function of a healthy immune and nervous system. Vitamin B12 is essential for the production of red blood cells and so maintaining correct levels of B12 can reduce tiredness and fatigue while also promoting better sleep. Vitamin B12 is more abundant in animal-based diets and so is particularly recommended for vegetarians and vegans.
PERFECTED BY SCIENCE
Methylcobalamin is a metabolically active form of vitamin B12. As Vitamin B12 is water-soluble and not fat soluble, it is regularly flushed out of the body and so needs to be taken daily. Vitamin B12 (with Vitamin B6) reduces levels of homocysteine. Regulating levels of homocysteine reduces the risk of cardiovascular disease and cognitive decline.
PROVEN BY RESEARCH
Vitamin B12 is "an essential molecule for humans."
Individuals following vegetarian diets are at risk of developing vitamin B12 deficiency owing to suboptimal intake. As vitamin B12 is essential for the synthesis of nucleic acids, erythrocytes and in the maintenance of myelin, deficiency may result in a variety of symptoms.
Vegans who do not ingest vitamin B12 supplements were found to be at especially high risk. Vegetarians, especially vegans, should give strong consideration to the use of vitamin B12 supplements to ensure adequate vitamin B12 intake.
PROVIDED BY NATURE
Selenium plays a key role in metabolism. It contributes to the healthy function of the immune system and thyroid hormone synthesis as well as maintaining healthy hair and nails. It is also a powerful antioxidant, protecting cells from inflammation and UV damage. Antioxidants are compounds found in foods which can prevent damage to our skin and other organs, from free radicals, by preventing them from binding with our healthy cells.
PERFECTED BY SCIENCE
Selenium is a powerful antioxidant that fights oxidative stress and helps defend your body from chronic conditions, such as heart disease and cancer.
PROVEN BY RESEARCH
Selenium prevents mental decline, with studies showing that patients with Alzheimer's have lower blood levels of selenium.
Homeostasis of metals in the progression of Alzheimer's disease. Raúl González-Domínguez 1, Tamara García-Barrera, José Luis Gómez-Ariza . 2014 Jun;27(3):539-49.doi: 10.1007/s10534-014-9728-5. Epub 2014 Mar 26.
Selenium, which is nutritionally essential for humans, is a constituent of more than two dozen selenoproteins which play critical roles in reproduction, thyroid hormone metabolism, DNA synthesis and protection from oxidative damage and infection.
Sunde RA. Selenium. In: Ross AC, Caballero B, Cousins RJ, Tucker KL, Ziegler TR, eds. Modern Nutrition in Health and Disease. 11th ed. Philadelphia, PA: Lippincott Williams & Wilkins; 2012:225-37